Shortcuts to superfoods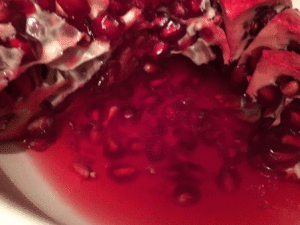 Here are shortcuts to prep and get the most of two superfoods, pomegranate and ginger. For ginger, peel the skin and cut into small chunks. Freeze and use a piece in teas, soups and smoothies. For pomegranate, put a small amount of water in a wide bowl. Cut the washed fruit within that bowl to catch the fresh juice.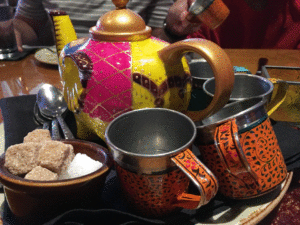 Masala Chai

Chai is the Hindi word for tea. The spices in tea are considered to have healing properties, build the immune system and serve as an anti-inflammatory. Read more. To prepare:
2 cups of water
2 tbls black tea
3/4 cup of milk
2 Cardamon pods
1 cinnamon stick
Pinch of ground ginger
1 -2 Cloves
1 tspn of sugar (per taste)
Heat water. Add black tea, cardamon, cinnamon, ginger and cloves. Bring it to a boil and simmer for 10 mins. Add milk and sugar and stir. Strain the tea and fill it into the cups.
Serves: 2-3 Cups
SHORTCUT: Buy black tea bags. Add spices to water and boil. Pour over tea bag. Add whole milk and sugar to taste.