Gojo: A Ethiopian Feast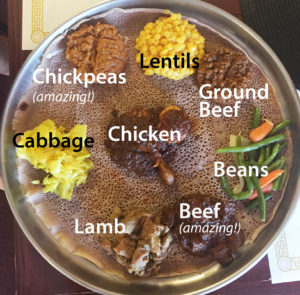 Head to Gojo, off of Thompson Lane, for a flavorful feast of dynamite flavors and textures. The injara, spongy sourdough flatbread, serves as the edible plate.
What to choose on the bread is where the fun begins. There are several different wats, or thick stews. The way to go is  a combo of veg and non veg platter (pictured above). This is a great option for two to three people. The shiro w'et (chickpeas) is amazing, seasoned with onion and garlic in a tomato base. It is similar to Indian chole. For non veg, the qeyW'et, beef stew, is highly recommended. The stew is spiced with bergere, a common Ethiopian household ingredient consisting of chili peppers, garlic, ginger, basil, ajwain and fenugreek. In the center is the national dish of Ethiopia is doro wot, a chicken drumstick.
The way to eat is to break a piece of bread with the right hand (or left if left handed) and select a wat to grab. It is entertaining and tasty.
It is believed that coffee originated in Ethiopia and to this day, the mighty bean is given its due respect. The coffee is freshly brewed, evidenced by a bowl of hot roasted beans brought out by the server before the beverage is served. After the steamy presentation, she soon returns with an ornate coffee pot along with burning frankincense.
Gojo
415 Thompson Lane, Nashville, TN 37211
(615) 332-0710

Make note: kitfo is raw beef.